Site Guide
Check before registration.Here are a sample movie and image.
Sign Up Procedure
Select Your Plan
・30days・90days・180days・360days Choose your desired plan from above.
Longer membership is cheaper fee per day.For those who wish to enjoy our website for long period; ・180days・360days
For those who are new to our website and give it a shot for a trial; ・30days・90daysWe recommend above plans.
Sing Up Procedure for Credit Card Payment
Choose membership plan

By clicking above, you will be directed to application form.
Filling Registration Form
Enter user ID/Password you wish

After choosing card type and clicking "Confirm", confirmation page of ③ will appear.
Confirm Your Entered Info
After confirming your user ID/Password, please click "Proceed to Pay".
You will be directed to settlement company's page of ④.
*If you are not directed to payment page, click "Proceed to Pay" with Ctrl key.
Your user ID/password will be required for logging in, browsing video/image, making inquiry, and unsubscription.
Please keep them with caution.
Enter Screen at Settlement Company
From this settlement company's page, your personal info is protected with SSL encrypted communication.
*Credit card info you entered here will be managed by settlement company.
Please enter your credit card info and email address.
Please enter your telephone number.
After checking your entered info, please click "Confirmation".
Unsubscription Procedure
To Unsubscription Form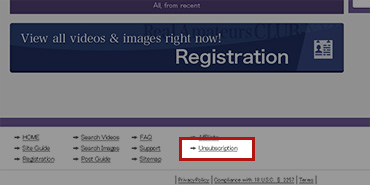 Please click "Unsubscription"
on the bottom of the HOME.
You will be directed to unsubscription page of ②.
Filling Unsubscription Form
After entering User ID, Password, and Reason, click "Unsubscribe".
You will be directed to confirmation screen of ③.
Confirm Your Input Content
Please confirm your input content once again and click "Submit".
When you see below screen, your unsubscription has been completed.
You can enjoy our website until membership expiration even after unsubscription.
Email of unsubscription completion will be sent to your registered email address. Please check your inbox.
You can also check your member status at MyPage
*If you are not receiving above email, following reasons can be considered.
Email has been treated as a spam and distributed in spam box.
Email is blocked due to provider.
Entered incorrect email address at the time of sign up.
Please contact our support team after checking your spam box.
無料会員登録手順
Select "Add to Cart" button in the detail page of Sales Product.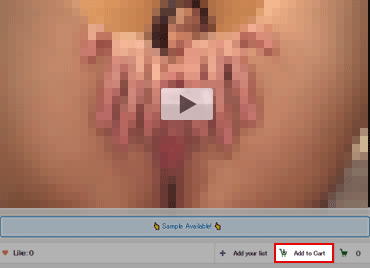 Without logging in

Click above button.
"Free Member Registration" from login page.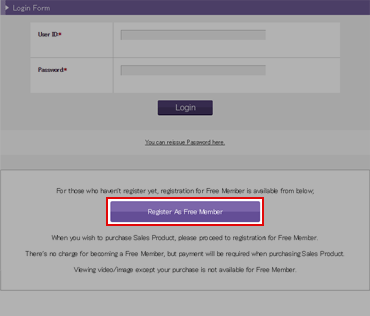 Please click "Register As Free Member" button on login form page.
Enter registration form for Free Member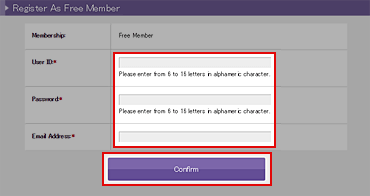 Please enter your User ID/Password and email address, then click "Confirm" button.
Confirm entered information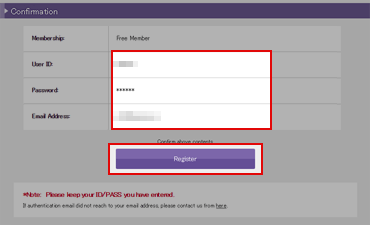 Please check its content once again then click "Register" button.
Your User ID/Password will be required for logging in, viewing video/image, contact, and membership cancel.
Please keep it safe at your own risk.
Complete registration

You will see the page displayed on the left when you completed registration.
An email "Authentication For Free Member" will be sent to your registered email address automatically.
After completing registration, purchase of Sales Product will be available.
Please note that Products posted other than for Sales cannot be viewed.
Video Ranking
1:28
2:06
0:46
Image Ranking
新着人気投稿者様